If you would like a pdf copy of the article below, you can download it here: Q4of2021Commentary
Q4 OF 2021  Real Estate Market Update for Queens, NY
At the National level, the unemployment rate went below 4% at the end of 2021, reaching pre-pandemic levels. The reactivation of the economy after the end of the lockdowns, created a surge in employment and in some industries a shortage of workers. Many older workers that were at or near retirement age decided to call it quits and retired last year, creating a shortage of labor and aiding unemployment numbers. Help wanted notices and job offerings became the norm as workers started choosing amongst the many options and demanding better salaries and better terms.
Source, US Department of Labor
https://blog.dol.gov/2022/01/07/5-numbers-from-the-december-jobs-report
In Queens the news were not as positive as unemployment at the end of Q4 was almost double the national average (7.5%) . Many industries, including restaurants, construction and transportation, were still dealing with the effects of the pandemic.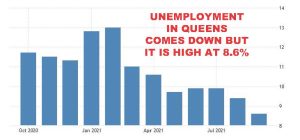 Source St.Louis Fed : https://fred.stlouisfed.org/series/NYQUEE1URN
At the national level Median Home Prices hit a record, although in the last quarter they came slightly down as compared to the third quarter, signifying, perhaps, a flattening of the upward trend in appreciation. Median home prices were $408,100 at years end,  according to HUD.

Source Hud and Census Bureu: https://fred.stlouisfed.org/series/MSPUS
The improvement in employment and low mortgage rates, specially,  that hovered the whole year in the low 3% range, help explain this record in median home prices. Additionally, many of the factors that created an increase in demand in 2021 were related to the pandemic (working from home, home schooling, the need for more interior and outdoor space, etc). At the end of 2021 interest rates started to increase and  in 2022 they expected to go up.  Some of the pandemic trends are also expected to subside. It remains to be seen if demand for real estate decreases and if inventory levels continue to be as low as in 2021.
Source Freddie Mac: http://www.freddiemac.com/pmms/
In 2021 the National Association of Realtors reviewed the profile of first time home buyers. The findings, as compared to their profile 40 years ago are not surprising:
The great majority of first time home buyers used the internet to search for homes in 2021 while in 1981 this was not an option.
Only 7% of first time home buyers used newspapers to search for home in 2021.
A surprising find was that 6% more buyers were financing their purchase in 1981. Meaning that in 2021 the same amount was able to buy without financing. For those who financed their purchase last year, their downpayments were substantially lower than in 2021.
First time home buyers represented only 34% of home sales in 2021. This means that there are many more investors on the market today and that many buyers are buying second homes for investment or for vacation purposes. It is harder to buy your first home and for those lucky enough to buy, this may mean their ticket to buy a second home or an investment property. Additionally, with low rates many investors jumped into the real estate train, not just to fix and flip but to hold and rent, competing for homes with first time home buyers. The increase in rents during 2021, in the double digits range, also explain this trend.
The age of first time home buying also went up, illustrating the fact that more money needs to be saved and for longer, before that first purchase occurs.
Source: National Association of Realtors, https://www.nar.realtor/research-and-statistics
At the end of 2021 the rate of inflation climbed to 4.7% setting off the alarms at the Federal Reserve. This is one of the reasons that interest rates are expected to be higher in 2022. In the chart below you can see how home appreciation has fared against inflation in the past. In 2020 and 2021 homes appreciated over 12% while inflation was an average of 3% making real estate an excellent hedge against inflation.
In 2022 the expected or projected price increase is much more normalized at 2.8%. That means that inflation continues to go up in 2022, beyond 3%, not even a still hot real estate market will provide protection against inflation.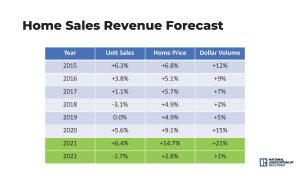 Source: National Association of Realtors, https://www.nar.realtor/research-and-statistics
According to our MLS, 2021 was a record year not only for Queens but also for Nassau and Suffolk Counties. Median home prices in Queens increased by 7.2% to a level of $660,000 , compared to $615,000 in 2020. This is for all residential types, computed together (including single families, apartments and small multifamilies). At the end of this article we will address each of these types separately.
Source: One Key MLS, MLS Market Reports:   www.Onekeymls.com
It is interesting to note that the median price for closed homes in 2021 was $670,000  but that median price for pending homes was $660,000, illustrating that at the end of 2021 homes were closing at a slightly higher level than the homes that were going to contract. This may be an indication that prices are starting to level off and not going up at the rate they have gone up in the last 24 months.
If we look at inventory levels in the Fourth Quarter of 2021 , they were very low, to a level equivalent to 4.4 months of supply, a definite seller´s market, in line with the difficulty that buyers were having to find a suitable property. But this inventory crunch in 2021 may also be seasonal, as old man winter and the holiday season prompt many to wait until the spring to put their houses on the market. It is important to know that this may not be the best strategy for sellers, since many homes come on the market in the spring, creating competition for buyers and that in the winter, you enjoy the opposite scenario as a seller: less competing homes on the market and in the case of Q4 2021, more buyers trying to lock lower interest rates before they go any higher.
Source One Key Multiple Listing Data as researched by Manuel Vargas, Lic. Broker Associate, Keller Williams Realty Landmark
https://www.onekeymls.com/agent/Manuel-Vargas/679c3f78-0dd8-4a90-9f1b-a4adf8bfc0d8
As inventory decreased, so did negotiability.  More buyers had to get involved in bidding wars and bid over asking price in order to get the house. Consequently, concessions from sellers in price or terms were lower.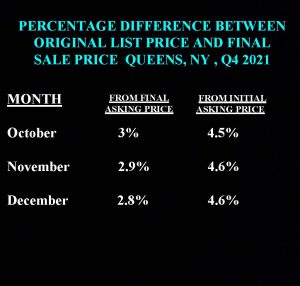 As a buyer, one not only had to pay the highest price, but  hat to offer the best terms for the seller as well, such as waiving inspections, appraisal or mortgage contingencies. All cash offers were often the winners. This scenario may start to change as interest rates go up, some buyer demand is knocked out from the qualifying pool, and inventory starts lingering on the market a little longer.
Source One Key Multiple Listing Data as researched by Manuel Vargas, Lic. Broker Associate, Keller Williams Realty Landmark
https://www.onekeymls.com/agent/Manuel-Vargas/679c3f78-0dd8-4a90-9f1b-a4adf8bfc0d8
In the graph below, we can note that the median price of 1 family homes in Q4 of 2021 went actually down at the end of the Quarter, while the median price of 2 family homes seemed to become stabilized. One possible explanation is that during the pandemic rents were low as people left the city in droves and that many buyers avoided multifamilies due to the Eviction moratorium and the potential for landlord-tenant issues. As the lockdowns were lifted, and people started returning to New York City, rents enjoyed a remarkable recovery. Then 2 families became more popular once again, as they are they are the first choice of many New York City and Queens home buyers who seek rental income to help pay for the mortgage. In many neighborhoods of Queens, 1 family living is a bit of a luxury, but during the pandemic, it was the most soughtafter property type for the reasons that we already discussed (not sharing living spaces, working from home, having space for children and entertaining, etc).
If we look at small multifamilies ( 3 and 4 families) they illustrate the recovery of the rental market showing increases in both median price and transaction numbers year over year at the end of Q4. Coops and Condos also show the same tendency as many buyers were left out of the 1 to 4 family property market and had to search for cheaper options such as apartments. They also benefitted from the fact that residents became a bit more comfortable living in shared spaces, meaning, sharing an elevator, common areas and amenities, etc, as the pandemic seemed to become more under control.
Source One Key Multiple Listing Data as researched by Manuel Vargas, Lic. Broker Associate, Keller Williams Realty Landmark
https://www.onekeymls.com/agent/Manuel-Vargas/679c3f78-0dd8-4a90-9f1b-a4adf8bfc0d8
In conclusion Q4 2021 capped a year of records for the Queens real estate market but it signaled a levelling off of price increases and transaction activity. Inflation and interest rates are the indicators to follow in 2022 and they may cause an adjustment in prices and a decrease in transaction numbers. On the other hand, it would not be a surprise that transaction numbers come down after the record levels of 2021. It is as if we had taken buyers from the future an assigned them to 2021. Them it follows that, these buyers who bought already, are not likely to buy again in 2022. It remains to be seen whether inventory levels go up. One big motivator for homeowners to stay in place, is that many bought or refinanced at record low mortgage rates. This will make it harder for them to move up or move down, when they compare the cost of the new home at higher mortgage rates. Homowner's reluctancy to move make put a lid on inventories since ability to move is set to decrease. It has always been said that real estate is local and that there is not just a real estate market but many submarkets. They change differently and adjust differently to macroeconomic and local trends. Some submarkets may stay strong, as demand will continue to be high as compared to supply, as opposed to others. If you want to find out what is happening in your particular neighborhood, do not hesitate to contact me, I have the experience and the know how to spot the trends and provide you with accurate information.
https://www.topqueensagent.com/
.